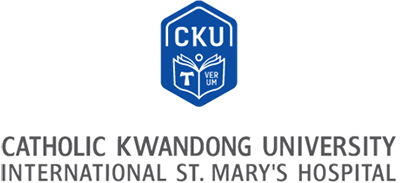 Catholic Kwandong University International St. Mary's Hospital, with its state-of-the-art equipment and facilities, not only provides the highest level of medical service but also fosters a superb environment for medical doctors, thereby contributing to the development of the nation's medical industry. The hospital was opened in 2014.
With 36 clinical departments, and 14 centers of excellence, the hospital is focused on medical care, education and research, and places the highest value on patient safety and patient-centered care. It is also at the vanguard of the medical industry and its hi-tech medical standards through a variety of innovative research activities: EIT&LOFUS Research Center, Center for Clinical Test, Biomedical Research Institute, Institute for Integrative medicine, Institute for Translational & Clinical Research.
The ultimate experience for the foreign patient.
Aiming to become a hospital that goes far beyond existing hospitals, Catholic Kwandong University International St. Mary's Hospital has created a complete patient experience that is second to none. This is the world's first comprehensive medical complex with a hospital, senior town apartments, nursing home, kids theme park: Balance Park, and shopping mall.
Click to view accreditation.
A Hospital with State-of-the-Art Medical Equipment
Our Hybrid Operating Theatres are equipped with:
Arthroscope (Imaging Consoles)
– Synergy HD3 Console with Turret, 110v, with Tablet – AR-3200-0001T
– Synergy Resection Shaver Console – AR-8305
– DualWave Arthroscopy Pump – AR-6480
Tourniquet
– Zimmer A.T.S® 3000 Automatic Tourniquet System
Electrosurgical Unit
– ArthroCare Quantum II System (H4500-00)
Astral Lamp
– Volista 600 + 400 STANDOP
Medical Display
– Foreseeson, FS-P2603D
Medical Saw
– SYSTEM 7 STERNUM SAW (7207-000-000)
TRS drill
– Trauma Recon System & TRS Recon Sagittal Saw Set
Korea's First Comprehensive Medical Complex
Adding to the foreign patient's total experience at ISMH is a stunning indoor facility featuring a Food Court, Restaurant, Indoor Garden (Maris Garden), Convenience store, Supermarket, Coffee Shop, Spa, Beauty Salon, Gallery, Indoor Golf Range, Cosmetic/Health Supplement shop and Balance Park, an indoor playground.