CARTISTEM® is a freshly prepared (from a cryo-preserved stock) allogeneic adult stem cell product containing human Umbilical Cord Blood-derived Mesenchymal Stem Cells (hUCB-MSCs). It is indicated for the treatment of knee articular cartilage (ICRS grade IV) defects in patients with osteoarthritis as a result of degenerative disease or repeated trauma.
CARTISTEM® is manufactured and prepared in Korea from the stem cells isolated from the umbilical cord blood of healthy newborns, donated by their parents. Both the newborn's cord blood and the mother's blood are thoroughly tested for communicable diseases before the stem cells are isolated and processed.
Umbilical Cord Blood (UCB) is a fresh source of effective adult stem cells, which are considered the most ethical because cord blood is regarded as waste tissue. Therefore, the use of UCB stem cells is endorsed by religious groups including the Roman Catholic Church.
The simple, effective CARTISTEM® surgical procedure, which is performed at the International St. Mary's Hospital in Korea, involves instant application of Stem Cell Therapy Product, without invasive collection of patient's own tissue(s).
CARTISTEM® is manufactured under strict regulatory observations enforced in Korea which ensures safe and consistently efficacious Stem Cell Therapy Product is delivered to patients. Since 2012, thousands of releases of CARTISTEM® product have been made without a single safety issue or adverse event. It can be used by any patient regardless of blood type, age, sex or ethnicity. Each vial of CARTISTEM® contains 7.5 million stem cells which have been qualified for their therapeutic potency and takes approximately 6 months to manufacture.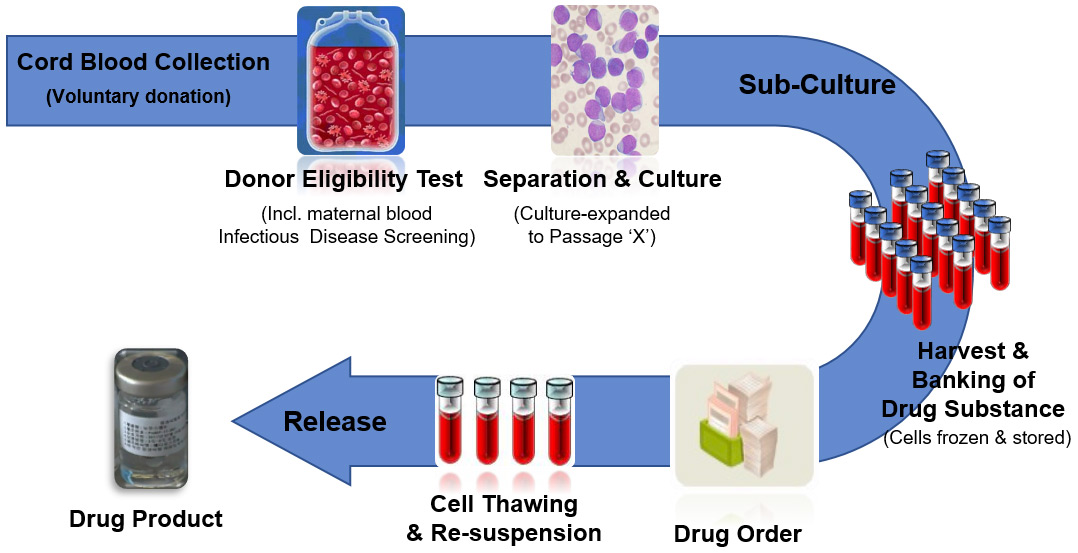 Over 12 years of research and clinical testing have demonstrated the safety and efficacy of CARTISTEM® and this science has been documented in high-profile scientific and medical journals.
Click for publications on CARTISTEM®.
Click for Clinical Trial Results.
Click for existing treatment options for knee osteoarthritis.
The dangers of unproven claims about stem cell drugs.
In the US there are 570 stem cell clinics making unproven claims about their treatments of various aliments. The US FDA has not approved one stem cell drug. These stem cell treatments have no approved clinical proof and have not been proven safe. Typically in these clinics, treatment consists of extracting the patient's own stem cells, putting them in a centrifuge, processing them and then administering them back into the patient. This processing of the stem cells takes about 3 hours and if the patient is 60 years old then their stem cells are 60 years old. These clinics are technically not allowed by the US FDA to manipulate the patient's stem cells, however in some cases such manipulation of patient's cells takes place, such practice not only fails to guarantee clinical improvements but can even be unsafe.
Click to see how the US FDA is cracking down on stem cell clinics.
CARTISTEM® treatment: proven and safe.
In the past five years, thousands of Korean patients have been treated successfully with CARTISTEM® without a single reported case of an adverse reaction. The patients in the Phase 3 Randomized Controlled Trial were from 50 years to 70 years old and had a history of degenerative knee cartilage. All clinical trials were approved by the Ministry of Food and Drug Safety (MFDS) – formerly known as the Korean FDA and all results were confirmed by the MFDS. Market-Approval for CARTISTEM® by the MFDS  was granted in January, 2012.
The proof of the regeneration of cartilage through CARTISTEM® treatment involved arthroscopic second-look assessment of the patient's knee cartilage 48 weeks after surgery. The arthroscopic second-look assessment proved the cartilage had regenerated as the patient's  knee cartilage. The results of the Phase 3 Randomized Controlled Trial, (including up to 5-year follow-up), will be published in a major medical journal in 2018.
CARTISTEM® has also completed US-FDA Investigational New Drug (IND) Phase 1/2a clinical trial conducted at RUSH University Medical Center, Chicago, IL and Brigham and Women's Hospital, Chestnut Hill, MA. CARTISTEM® was also proven to be safe and effective in the U.S. trial.
The MFDS (Korean FDA) audits the MEDIPOST's GMP (Good Manufacturing Process) Cell Therapy Product manufacturing facility (located in Seoul, Korea) on a regular basis and each vial of CARTISTEM is tested for safety and efficacy in multiple-stages by MEDIPOST, prior to release.
CARTISTEM® is the only approved Stem Cell Therapy Product in the world for the regeneration of knee cartilage.
Approved product-label by the Korean Regulatory Authority (MFDS) CARTISTEM® reads: Collaborating efforts between MEDIPOST and Samsung Medical Center have resulted in the successful development of CARTISTEM®, an allogeneic Umbilical Cord Blood (UCB)-derived Stem Cell Therapy Product approved by the regulatory authority in Korea. Through rigorous research and development since 2001, CARTISTEM® has been proven to regenerate knee cartilage in 98% of the patients who participated in the Phase 3 randomized controlled clinical trial.
"CARTISTEM® is indicated for the treatment of articular cartilage defects in patients with osteoarthritis (ICRS grade IV) as a result of degenerative disease or repeated trauma".
There are only several countries around the world who has regulatory framework for regulating and approving stem cell therapy products with the leading country being the Republic of Korea. In Korea, CARTISTEM® has gone through rigorous series of pre-clinical (animal) studies and controlled clinical trials and been used on the market successfully to treat thousands of patients to date.
About Zemyna
Zemyna has an agreement with MEDIPOST to distribute CARTISTEM® in other countries when Zemyna receives registration of CARTISTEM® in those countries. Zemyna also has an agreement with MEDIPOST to treat foreign patients with CARTISTEM® in Korea. Zemyna partners with International St. Mary's Hospital in Incheon-Seoul, Korea to provide CARTISTEM® treatment to patients from all over the world.
Contact Zemyna: [email protected]